INPP Australia practitioners address underlying issues that may impact on a child's development and ability to learn and succeed in school as well as adults with anxiety problems.
Using methods developed by INPP UK over 40 years of practice, INPP practitioners provide assistance to families, children and adults experiencing various difficulties in learning, work and social situations. Non-invasive techniques of assessing and addressing developmental immaturity are used to support and enhance foundations for learning and daily functioning.
A child with difficulties in any of the following areas may have neuro-motor immaturity as an underlying cause and benefit from the INPP method:
Attention and concentration problems
Reading, writing, spelling or maths difficulties
Co-ordination challenges including clumsiness, difficulty learning to ride a bicycle, swim and in physical education classes
Inability to sit still and remain silent in class (the "constant fidgeter")
Educational under-achievement
Dyslexia, dyspraxia, ADHD and ADD
Anxiety and panic disorders.
This website provides a central point of contact and information regarding Licenced INPP Practitioners in Australia, New Zealand and Singapore who are registered practitioners through INPP Australia.
INPP Licentiates are part of an international body of practitioners committed to ongoing professional development and continuing education in the field of Neuro-Motor Immaturity as well as a Code of Conduct for practicing the INPP method. *
---
Is the INPP method right for your family?
If you think your child can benefit from this programme but aren't quite sure, click on the "Child Screening Questionnaire" button below or in the sidebar. We will try to get back to you within 24 – 48 hours to let you know about our programme and its suitability.
Alternatively, find an INPP Licentiate Practitioner in your area on our INPP Licentiate page, email them or visit their websites for further information and screening questionnaire options. INPP Licentiate practitioners who are affiliated with INPP Australia can be found in Australia, New Zealand and Singapore.
Child Screening Questionaire: Use this screening questionnaire to learn if this method is likely to be useful for your child?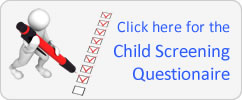 ---
*Please note that any person, organisation or other entity that does not appear on the Licentiate list is not a Licentiate INPP Practitioner operating under the approved Licentiate qualification required to practise the INPP method to Licentiate standard and they are not lawfully entitled to hold themselves out or advertise as being a Licentiate INPP Practitioner other than the persons listed here or on the INPP international or national websites.